The newly independent country of Albania, printed it's first stamps featuring a design other than the double-headed eagle, in December of 1913.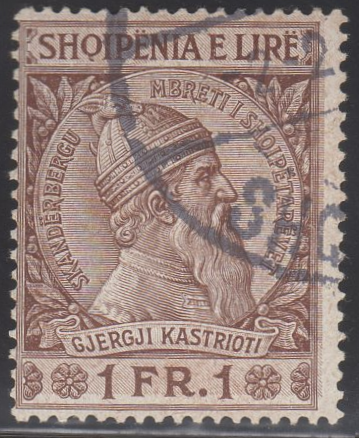 This series of stamps featured George Kastrioti Skanderbeg, the national hero of Albania, and were issued in 6 denominations: 2q, 5q, 10q, 25q, 50q, and 1fr.

This also marks the first time that stamps appeared denominated in Franc's.   Prior to this, stamps were dominated in Paras and Grosh (following the Ottomon's), but, Albania had begun to use the currency of what was called the "Latin Monetary Union", and therefore printed these stamps according to that currency.   At this time, Albania did not have a currency of her own (and wouldn't until 1925)
There are actually quite a few overprints that were later placed onto these stamps, this article will focus on the surcharges of 1914, but there was a "7 Mars" overprint to celebrate Prince Wilhelm's arrival, a later overprint in 1919, and some local overprints that were done after Albania crumbled because of World War I.
The overprints of 1914 are interesting because they seem to indicate a return to the usage of the Ottomon style currency of Paras and Groschen.   (40 Paras = 1 Groschen )
The overprint is in 2 styles, the "Para" overprint has lines to the left and right, and the Groschen (Grosh) overprint does not.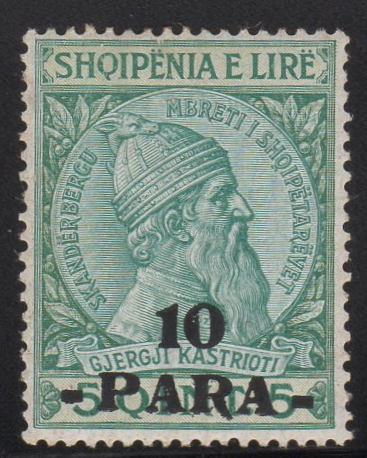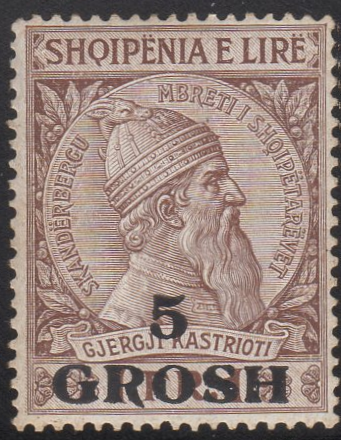 I have accumulated quite a few of these stamps, and have organized a little collection of overprint varieties.   A few examples shown below:
The following stamp is one of the more interesting ones.   According to both Scott and Michel, these overprinted stamps were released on April 2nd, 1914.  However, if you look at the stamp below, it seems to have a postmark of April 1st, 1914.   Fake Overprint? – Fake Cancel? – tough to say.  (See further information on this oddity in this updated post)
Scott and Michel also both note inverted overprints for each of these issues.   Although not common, they can be easily found on eBay and in other auctions.  Values are about 5x a stamp with a correct overprint.