Another example of Unitrade providing additional minor number varieties for Canadian Stamps.
This Meteorology stamp, issued in 1968, is Scott (Unitrade) number 479.   Printed in 4 colors, dark blue, light blue, yellow and red.
The variety, according to Unitrade is called "Red Over Blue" where the red edge of the dish appears to be printed on top of the blue weather vane.  (They value this variety at $10).   Unitrade gives this a catalog number of 479ii.
Here are a few closeups of the 2 regions that show the variety
While hunting for this variety, I did note that there are various stages of how much the red shows "through" the blue.   I also found this interesting color shifted stamp.
Color shift closeup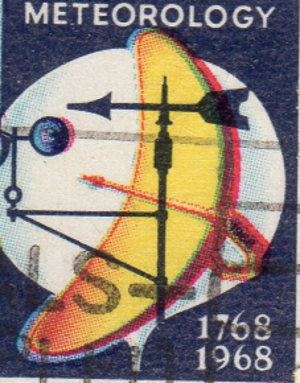 In this color shifted example, the blue is clearly above the red (not below it as in the variety)