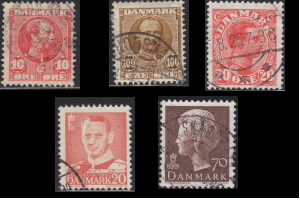 Denmark began issuing stamps in 1851 during the reign of King Frederick VII who was king from 1848 – 1863.  However, it wasn't until 1904, during the end of the reign of Christian IX that a monarch first appeared on the stamps of Denmark.
Why wasn't Frederick VII on a stamp? – well, it is hard to say, but according to this discussion on Stampboards he did appear on an Essay that was never put into production (and then later, he finally appeared on a souv sheet in 1976 showing the Essay).
The Danes like their numeral stamps I guess.
Christian IX : 1863 – 1906
Christian IX finally appears 2 years before he dies in the first series to feature a Monarch in 1904.
Facit does list a number of varieties for each stamp in this series, including shades and inverted watermarks.   There is a distinction between 2 types of these (listed separately in Scott) according to the image below.
The easiest way to tell the difference is in the background and that Type II is missing a medallion on his chest.
Frederik VIII : 1906 – 1912
In 1907, a similar looking set of stamps with the new monarch Frederik VIII were produced.
Facit has a few varieties listed including color shades and inverted watermarks, along with a number of high catalog value flaws.
Here are few shades from my collection.
If you look closely at the left "5" in the 5o green you will notice a bit of extra white color on the left side compared to the right side.
Christian X : 1912 – 1947
With Christian X and is 35 year rule, we get a number of different issues bearing his portrait.
1913-1928 Series – Christian Facing Right.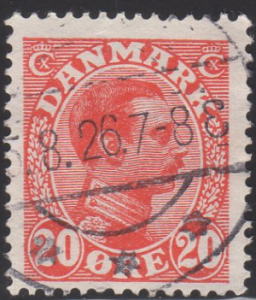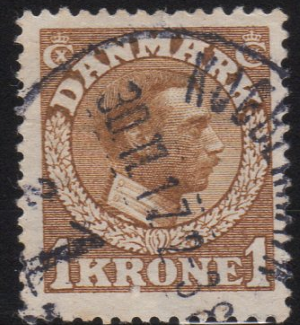 And some color varieties
1934-1941 Series – Christian Facing Left
Christian's 60th Birthday – 1930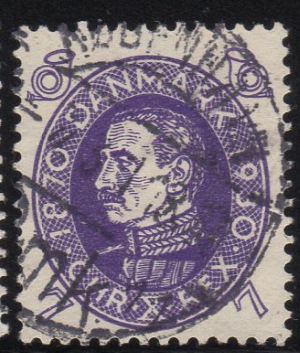 Last Issue featuring Christian X : 1942 – 1946
Frederik IX : 1947 – 1972
The first series featuring Frederik IX began in 1948 and ran through 1968 with the following design:
There are a number of varieties of this design listed in Facit, Scott and Michel as well as some varieties only listed in Facit.
First the types.  There are 3 types to this design which can be distinguished by looking at the background lines and looking at the lines on his uniform.
Type I : Background of horizontal lines
Type II : Square patterned or hatched background lines.  Uniform lines are undivided.
Type III : Same as Type II but with uniform lines in a divided line pattern.
The 15o Green Exists Type II and II, 20o Brown Red exists Type I and III, 30o Orange Type II and III.
There is also a "Damaged Name" variety that exists on the 30o Brown Red.   Fairly easy to spot – and fairly common, see the image below:
Overprint Varieties
There are also Type I and Type II over the overprints on these stamps as well.  They are distinguished by looking at if the bars are even with the surcharge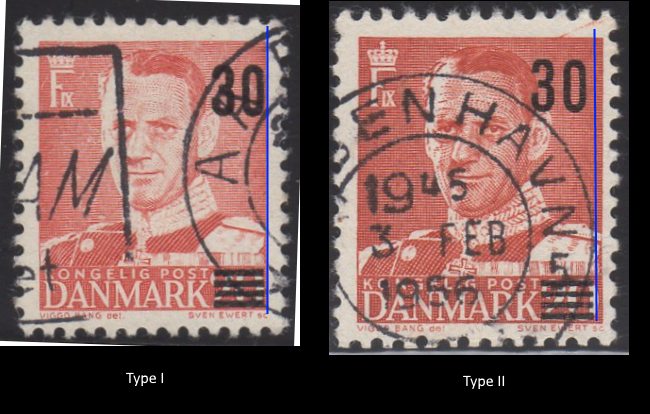 Frederik IX – Second Series
The second series ran from 1961 – 1967 with no interesting varieties that I am aware.
Margrethe II – 1972 – Present
Finally, Margrethe II, who has so far appeared on 6 different series of stamps.   She was quite a looker in her early years I might add.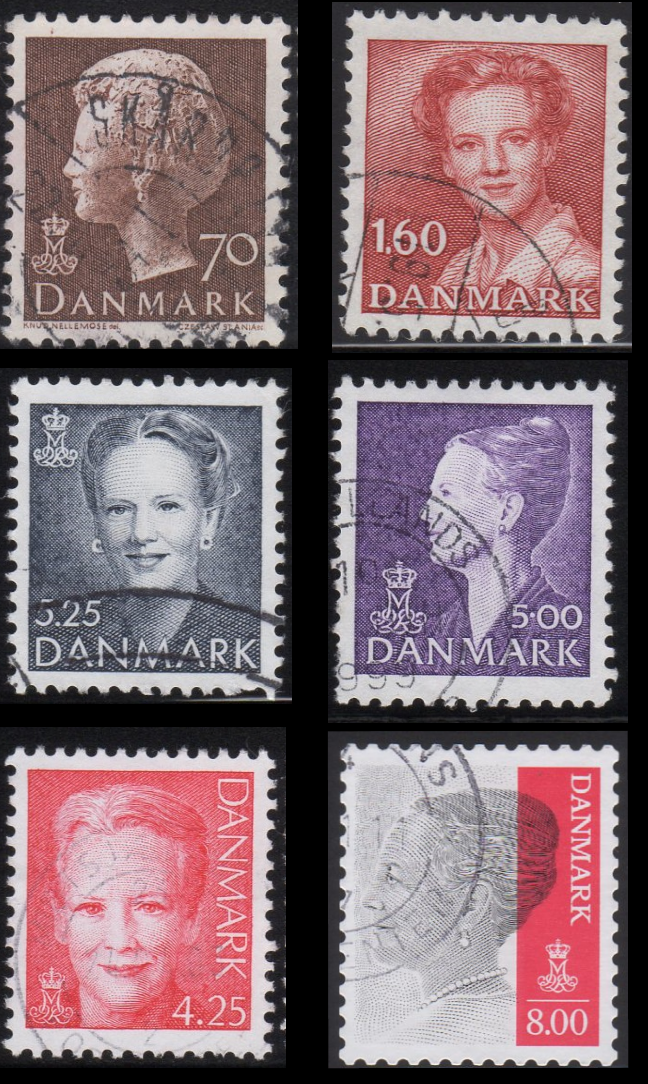 And that wraps up the series on Denmark Definitives.