In 1948, Colombia overprinted a set of 1942 Postal Savings stamps with the phrase: "Colombia Sobretasa 1 Centavo"   This roughly translates to "Colombia Surcharge 1 Cent"
The Postal Savings Stamps, inscribed: "Banco Postal de Colombia
Ahorro Postal" which translates to "Post Bank Colombia, Postal Savings"
Postal Savings stamps were purchased by an individual as a kind of savings account.  They would add them to a book, and accumulate them, and then later be able to cash them in.
It is difficult to find a reference for them.  They are not listed in major catalogs and are also not listed in most revenue catalogs.
For this stamp (Scott RA36-RA39) I have only examples of RA36 (1c on 5c).    The others are all 1c surcharges on 10c, 25c, and 50c Postal Savings stamps in various colors.
Scott lists these as Perforation 11, Michel does not list a perforation, and other online resources have shown Perf 12.
My two examples are Perf 11.5×11.5, and Perf 10.75×11.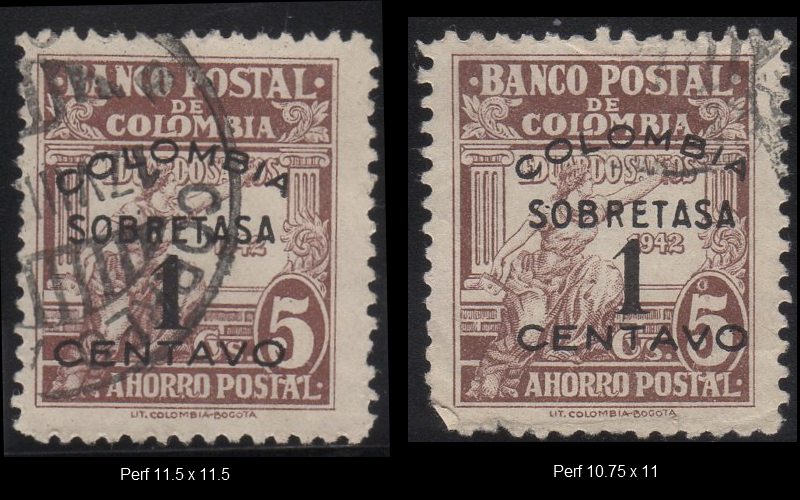 There is not a lot of information on the Postal Tax stamps of Colombia out there.
I did find this post on StampBoards, and includes pictures of a few Colombian Postal Tax stamps, but unfortunately, no examples of the issue above.
Another note is that for many Postal Tax stamps, Scott details what they were for (e.g.  The Red Cross, or a new building fund, etc.).  But for these, there is no note on what the tax was for.