Every once in a while you get a lucky find in a batch of stamps.   The stamp below was issued in October of 1995 but was withdrawn from use shortly (or possibly immediately) thereafter.  And Michel values it at 50 Euro.
I currently don't have answers (See End of Article for Updates to these questions) to any of the following questions:
1.  Who was "Shaheed Khandaker Mosharraf Hossain"?
2. How did he die in 1987?
3. Why was this stamp withdrawn?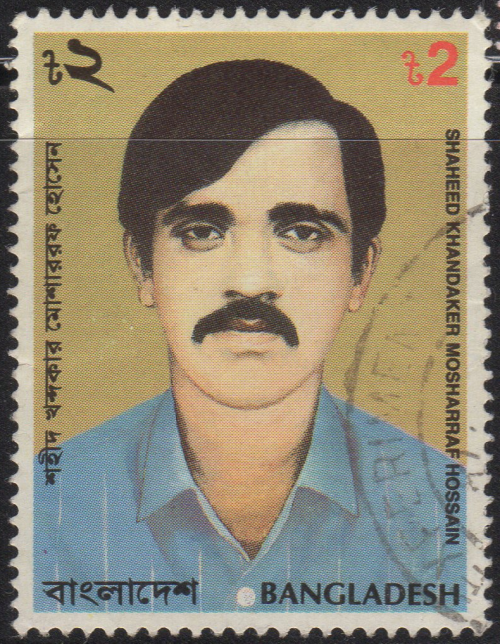 The 3 major catalogs differ in some of their details:
---
Scott #496
Scott lists it as Issue date of October 16th, Litho.  Perf 12 3/4 x 14 1/4 and does not list any value (– –) with a note: "No. 496 was removed from sale shortly after release."
---
Stanley Gibbons – No Number or Value
Only a note stating: "A 2t. stamp in a vertical design, commemorating Shaheed Khandaker Mosharraf Hossain was due for release on 21 October 1995 , but was withdrawn on day of issue although the instructions may not have reached some offices in time to prevent sale of these stamps.  Some used examples are known.
---
Michel #534
1995, 16. Okt.  8. Todestag von Khandaker Mosharraf Hossain.  Odr.; gez. K 13 3/4:14 1/2
vs) K. M. Hossain († 1987)
Value 50,–  50, —
MiNr 534 wurde am 21.10.1995 vom Verkauf zurückgezogen.
Now – My translation of all of this is roughly that the stamp was issued on October 16th, 1995 and commemorated the 8th anniversary of the death of Hossain. (died 1987)
And further it states: "was withdrawn from sale on 21.10.1995"
Michel is the only major print catalog to value the stamp..at 50 Euro.
StampWorld (Online Catalog) #542
Catalog titles it the: "The 5th Anniversary of the Death of Khandaker Mosharraf Hossain" and values it at 43 US Dollars
---
So – there is some confusion on the issue dates and withdrawal dates.  Scott says Issued 10/16 withdrawn shortly thereafter, Stanley Gibbons says: "Due for release on 10/21 withdrawn the same day", and Michel says issued 10/16 but withdrawn 5 days later on 10/21
The bigger question I have is: Who was this person?
I did google search after google search looking for a "Shaheed Khandaker Mosharraf Hossain" that died in 1987 but have not been able to find any information at all.  There are a number of other people with the same name (some politicians) but they all seem to be still alive.
AND – why did Bangladesh withdraw this stamp?
If any reader has any info – I'd love to hear about it.
 UPDATE – 1-29-2017
In the comments, Dieter, provides a link to a site specializing in withdrawn issues.   They describe a bit more of the events surrounding this stamp:
Hossain was a politically active student leader. During a political demonstration in 1987 he was shot dead. The stamp was withdrawn from sale on 21/10/1995. The apparent reason was the fact, that Hossain was a member of the political opposition.
Excellent info!