Benin is one of those countries that suffers from countless illegal bogus issues floating around, created with their country name, but have no connection at all to the postal service of Benin.
This has been discussed at length online, and here are a few posts dealing with the subject on stampboards( Stamp from Republique Du Benin? Real? Fake? or illegal? "  and "Stamps of the Republic of Cabinda – Discussion on Benin follows" )
Many of the issues are also listed in various UPU bulletins warning of the issue.  This 2004 Bulletin describes some.  As well as this 2006 one.
I have a few of these issues, but I can't quite match them exactly to the descriptions in the bulletins I have found.
This first set, featuring birds is the only one listed in StampWorld catalog as numbers 1292 – 1303 (2000) – But not in Scott.
According to StampWorld – This looks to be the complete set of these bird stamps.

This second group of dogs, fungus, and cats I can't find listed anywhere.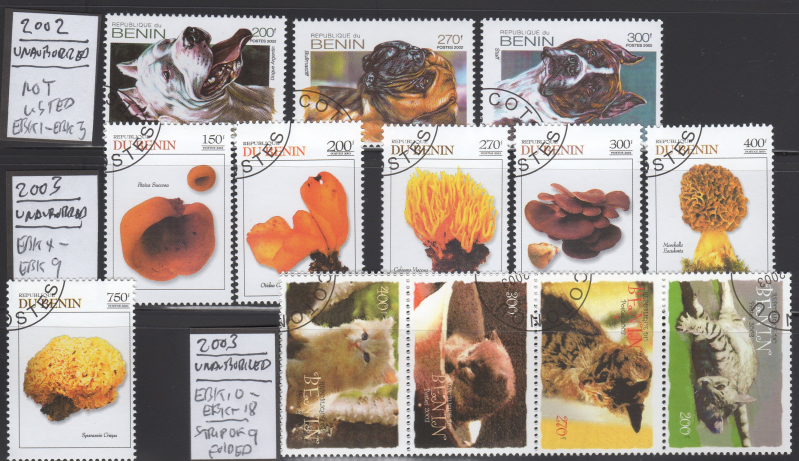 Even though they are illegals – I always keep these examples as I find them, because, they are still part of the story of philately – Even though they were never used on mail.
 Update:  See note from Keijo below in the comments.  Michel does list some of these stamps.