Starting in 1886, Colombia began using stamps inscribed "Retardo"  on mail to charge for items that had missed normal collection.
In 1914 this practice was discontinued and the last legit stamps with the overprint were issued.   These stamps are listed as Scott Numbers I1 through I7 in the back of the Colombia catalog.
However, an enterprising individual at a local post office, seeing the need for these stamps, began making the overprints himself on current issues.
According to the September 1998 issue of the Colombia-Panama Philatelic Study Group publication:
An employee of the Medellin Post Office and part time stamp dealer, Joaquin Arbelaez, realising that the general public was confused by the disappearance of the stamps, saw the opportunity of producing bogus stamps inscribed RETARDO initially 2c red stamps of
1908 and of 1917 were surcharged by Remington typewriter. These were issued in 1919 and will be covered by a future article.
In 1921 the 2c red of 1917. the 3 red on yellow of 1920 and the 3c green, 5c blue and 10c violet of the 1920 Provisional issue were overprinted Retardo 1921 in two lines of fancy type in Medellin probably also on the instructions of Sr. Arbelaez. The surcharge was applied in black in horizontal strips of five stamps on a hand press.
Sorting through my small pile of those 1917 issues, I came across this example of this Retardo overprint.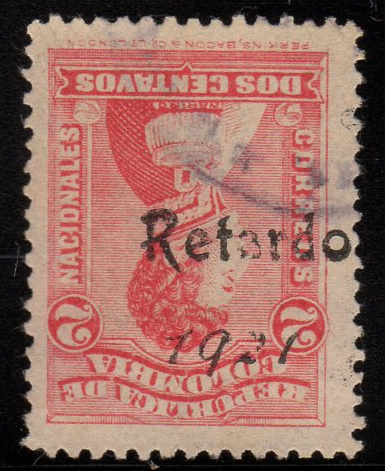 My example is inverted, and according to the COPAPHIL article, I believe that this overprint is an example of Type II.  (long tail R).   And according to the notes in the article, mine doesn't appear to match the characteristics of the later forgeries.
Note on inverted examples from the article:
All values except the 10c violet have been found with the
three types of surcharge inverted.
From the article:

Below is an image of the 2c (Scott 341) without the overprint: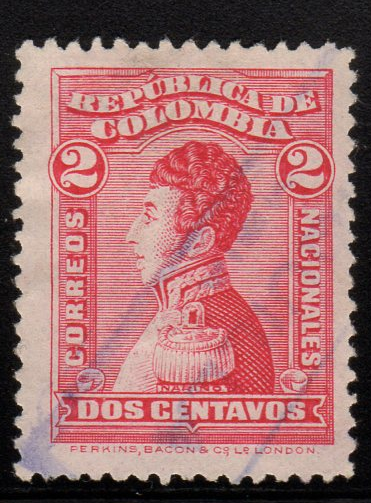 It could also be a fake, as the article notes that many fakes of these were later produced.
For more Retardo Overprints – See this second article