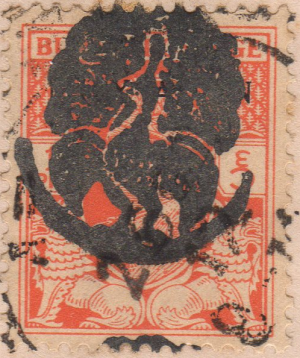 Burma was occupied by Japan during WWII between 1942 and 1945.  During this time stamps were issued for use in Burma.  First a series of overprints on existing Burmese stamps, later stamps of Japan hand-stamped with new values and finally a few sets of issues specifically printed for use in Burma.
The majority of these stamps (with a few exceptions) – Are rare, expensive, and heavily forged and faked.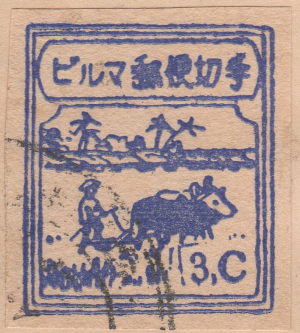 The "StampsOfBurma" website has an excellent history of these issues and who produced them.
A particularly interesting set of bogus covers was produced – Probably in India, after the war, that were not only fakes themselves, but, the stamps and overprints affixed to them were fake as well.
According to This Article on MyStampWorld
:
Produced in India. 1 anna. Litho'd, imperf, in red (the issued colour), orange and blue – the colours of the 1943 Independence series, alongside similar forgeries of which, plus the 1943 "state crest", this is usually found, on covers inscribed "Japanese Special Service Post", cancelled with a forged Japanese Occupation of Malaya postmark. The red version is also found alone on covers similarly inscribed, cancelled with a forged Penang commemorative cancellation. These are also found uncancelled, though they appear to have been produced with the principal purpose of creating these covers.
My own collection contains 17 of these covers and I can group them into 4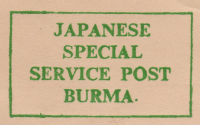 "types" which have been addressed to one of 3 different addressee's.
The common denominator among the covers is the inscription on the top-left of the envelope that states: "JAPANESE SPECIAL SERVICE POST BURMA."
Type I – "ON – OFFICIAL"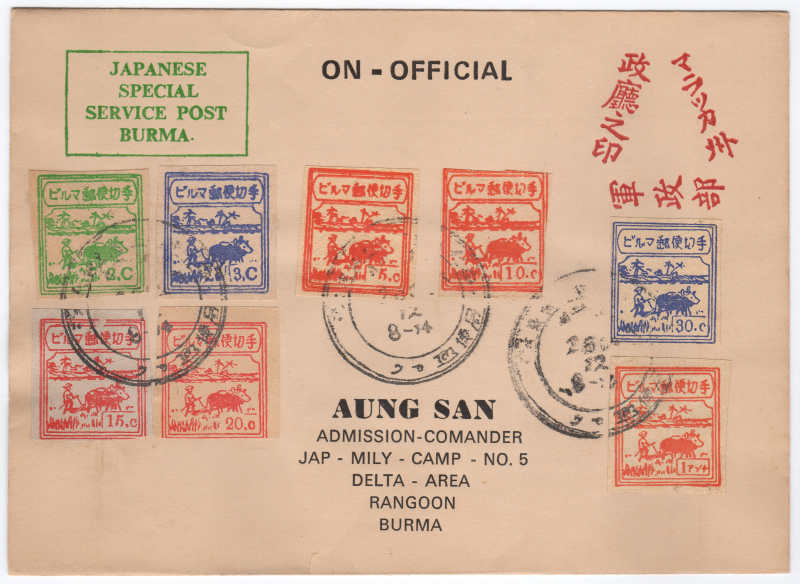 This cover contains the words "ON – OFFICIAL" at the top, Japanese characters to the right and is franked with 8 stamps.   These stamps (forgeries) are Scott Numbered 2N2 (1a) and 2N31-2N37 (2c – 30c ).
This cover is addressed to:
AUNG SAN – ADMISSION-COMANDER

JAP – MILY – ADMIN – NO. 5

DELTA – AREA

RANGOON

BURMA
The spelling of "Comander" is wrong but "AUNG SAN" refers to an actual person – A Burmese revolutionary who was the founder of the Burmese Communist Party
TYPE II – JAP. CHARACTERS – TOP RIGHT – (Red)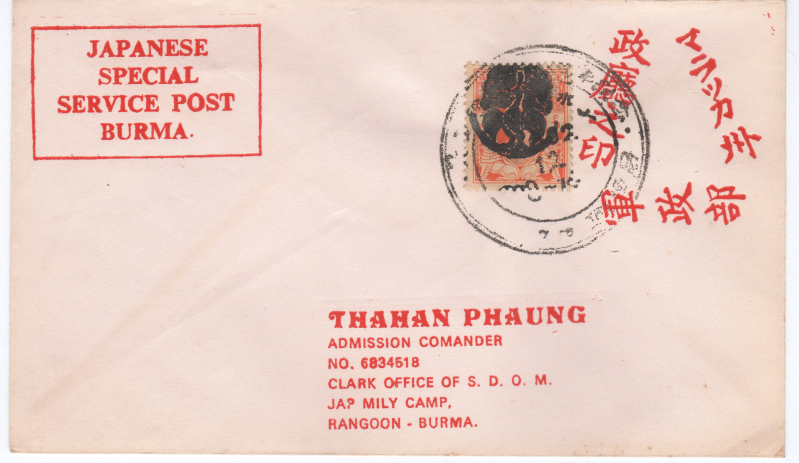 This cover is addressed to:
THAHAN PHAUNG

ADMISSION COMANDER

NO. 6834518

CLARK OFFICE OF S. D. O. M.

JAP MILY CAMP,

RANGOON – BURMA
Who I have been unable to find any information about using internet searches.  Note the misspelling of "CLERK OFFICE" as "CLARK OFFICE"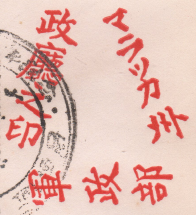 The characters to the top right form a triangle shape, but I don't know their meaning.  According to This Post on Stampboards.  The characters refer to: "Malacca State Postal Administration Seal"  "Malacca" is a small state on the Malay Peninsula south of Burma.
TYPE III – JAP. CHARACTERS – TOP RIGHT – (Green)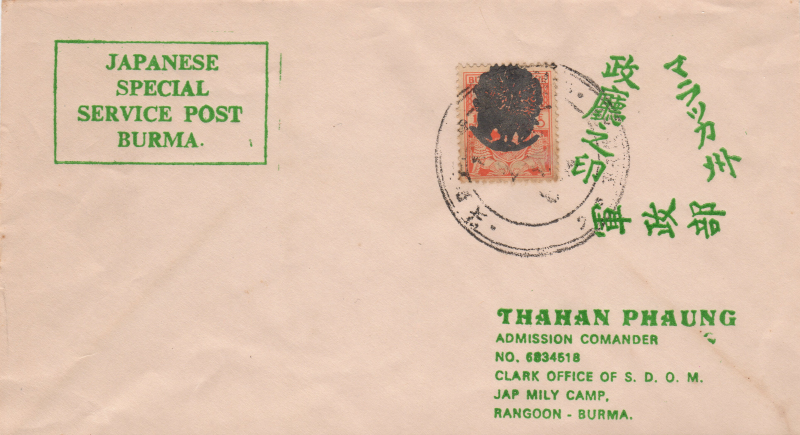 Same as Type II but in Green.
TYPE IV – No JAP. CHARACTERS – (Black)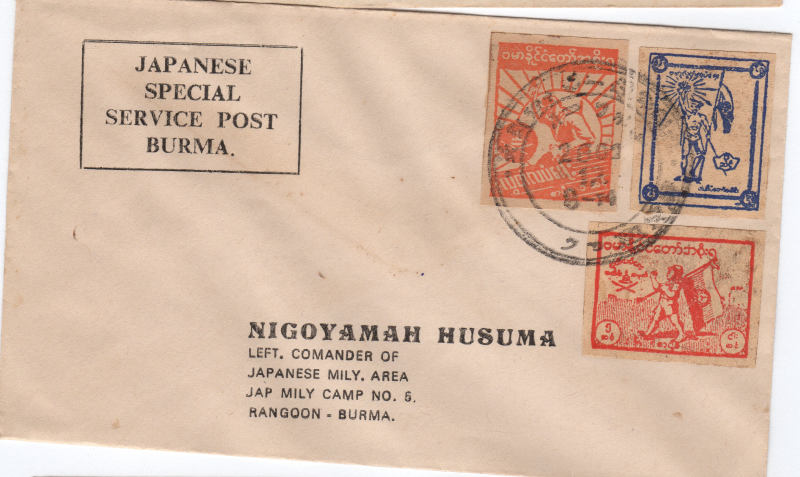 This cover is addressed to:
NIGOYAMAH HUSUMA

LEFT. COMANDER OF

JAPANESE MILY. AREA

JAP MILY CAMP NO. 5.

RANGOON – BURMA
(the only example I have addressed to this person) – And is printed in Black with no characters on the top right.
Another type: "V" can been see on this stampboards post.  This cover doesn't contain the "Japanese Special Service Post" inscription on the top right but is addressed to on of the same addresses: "Phaung"
These covers can be found on eBay quite often, and usually can be picked up for around $5, although I have seen some sell for more.
Here are the rest of my examples of these covers